Sustainability Management: Our Approach and Structure
Our Approach to Sustainability Management
At the Canon Marketing Japan Group (hereafter, the "Canon MJ Group"), based on the principle of Kyosei, we will strive to create a Company that helps realize a society in which all of humanity can long live, work, and live happily together.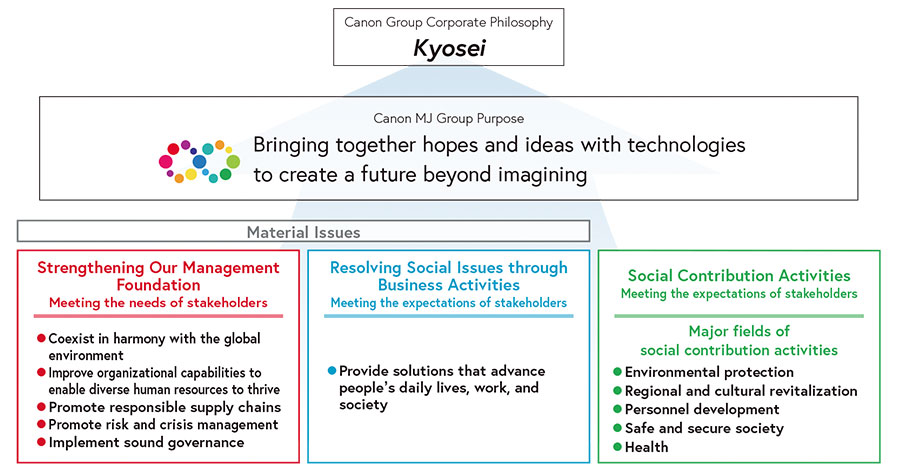 The Canon Group's Kyosei corporate philosophy is aims to realize a society in which people, society, and nature are in harmony and in which all human beings can live well. This is in keeping with the Sustainable Development Goals (SDGs). We believe that materializing Kyosei is the essence of what many call sustainability management. We will accordingly expand areas in which we can combine our Canon products and IT solutions capabilities to resolve social issues through business.
*The idea of Kyosei is a corporate philosophy that the Canon Group established in 1988, which conveys its dedication to seeing all people, regardless of culture, customs, language or race, harmoniously living and working together in happiness into the future.
Sustainability Promotion Structure
We established the Sustainability Promotion Committee as a place for the consideration of measures to enhance corporate value by placing sustainability management at the core of management plans, with the goal of the continued, sustainable development of ourselves and society.
The Sustainability Promotion Committee is chaired by the President and consists mainly of members who are responsible for formulating and implementing management plans. These members consider and deliberate on sustainability initiatives.
We plan to have the Sustainability Promotion Committee consider the Sustainability Vision and new material issues. We will disclose them, one by one, as soon as they have been established.

Functions of the Sustainability Promotion Committee
Deliberations on linking the formulation of material issues with Long-Term Management Objectives and the Three-Year Management Plan

Deliberations on measures to instill them internally

Deliberations on information disclosure and provision