At the Canon Marketing Japan Group (hereafter, the "Canon MJ Group"), we take quality improvement initiatives on an ongoing basis, seeking to provide customers with safe, reliable, high-quality products, services, and support and thereby achieving a high level of customer satisfaction.
In advancing business transformation with the IT solutions business at the core of growth, the Canon MJ Group focus our efforts on activities to keep responding to customers' voices.
We listen to customers' voices to improve the quality of our products, services, support, customer services, business process, and other aspects, in an effort to improve the value we provide to customers.
We regularly inform all employees of the Quality Policy to establish a quality management system for achieving targets.

Quality Improvement Committee
We have established the Quality Improvement Committee under the Management Committee, with the aim of driving quality improvement initiatives on an ongoing basis and thereby achieving a high level of customer satisfaction with the products, services, and support we provide to customers.
The Quality Improvement Committee has overall control of our quality management system, discusses the quality status and quality risks, and measures and evaluates customer satisfaction.
It consists of responsible persons from business units, headquarters, and Group companies. It is chaired by the Director of Marketing Headquarters.
Serving as a place for learning from failures and turning them into successes and greater customer satisfaction, this committee is tasked with sharing information about the status of activities and initiatives of each division and facilitating mutual inspiration between divisions.

Structure for Promoting Quality Management
To strengthen governance of the overall company, we have given the top authority for quality management to the President of Canon MJ and each business entity is driving Voluntary QMS Operation Activities for higher speed, productivity, and effectiveness.
We provide customers with a wide array of products, services, and support. To optimize the system for the overall organization, Quality Improvement Leaders, who are selected from among people with knowledge about a diverse range of products and services and appointed at the recommendation of the head of each division, manage the progress of QMS, provide guidance on it, conduct internal QMS audits, and take other measures with support from the quality assurance division. Quality Improvement Leaders are required to be certified as ISO 9001 internal auditors by CQI | IRCA, an international certification body, and have skills as auditors.

* Total number of Quality Improvement Leaders: 30 (as of August 2022)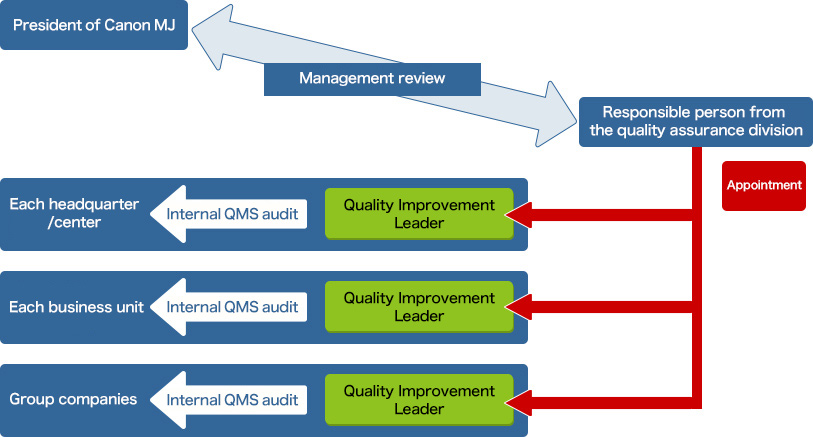 Providing Safe, Reliable Products and Services
At Canon MJ, we established the Basic Policy on Product Safety in July 2007 and the Voluntary Action Plan for Product Safety in March 2008. Based on the Basic Policy, we strive to implement our voluntary action plan.
* Following are available only in Japanese.
Quality Management System
For the value (products, services and support) that the Canon MJ Group provides to customers, we have established our own unique quality management system that augments the requirements of ISO9001, the international quality control standards, and are working to improve customer satisfaction.
We have established regulations necessary for the planning, implementation, checking, and continuous improvement of quality management activities by following our Regulations on Management of In-house Regulations. We thoroughly inform employees of these regulations together with the governing Detailed Rules and guidelines.
We are working to optimize the processes from the commercialization concept to the end of after-sales service and improve the results achieved in each process, in accordance with the Quality Assurance Basic Regulations, the rules on quality assurance that apply commonly to the overall company, Detailed Rules on Quality Management System, which stipulate the details of activities, and the individual quality management guidelines that are based on the characteristics of each product, service, and support.

Canon MJ Group's Quality-related Regulations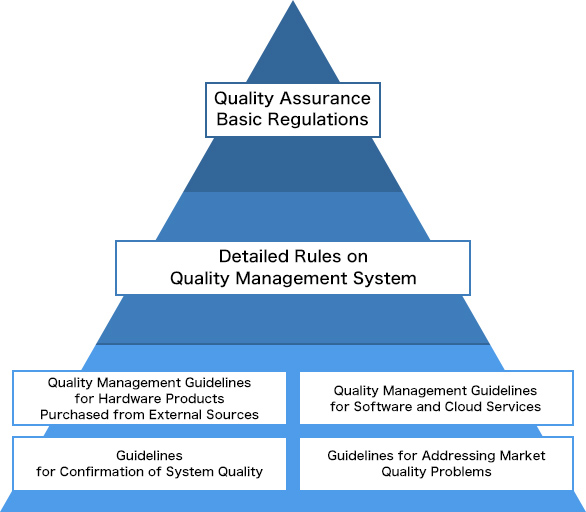 QMS Operation and Support
We operate QMS by following the Detailed Rules on Quality Management System and other regulations, aiming to provide customers with safe, reliable, high-quality products, services, and support. We also work with the administrative divisions of head office in strengthening QMS operation, to provide training for operating QMS and support the commercialization process.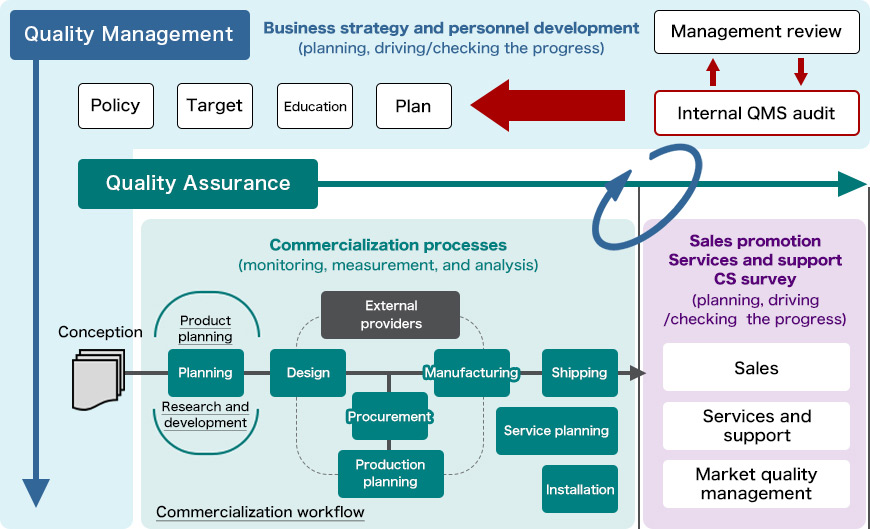 We have established a system for managing the quality of products purchased from external sources, under which the quality to be checked in the commercialization process (including compliance and product safety) is approved by administrative divisions of the head office through mutual consultation, by using the In-House Development and Commercialization Workflow (QMS Gate System).
Risk Management System for Quality Assurance
We deem it important to manage quality risks, not to mention the safety of products, services, and support. We have therefore established a system for ensuring an appropriate, prompt responses in the case of troubles with a product, service, or support provided to a customer.
With respect to the quality of products, etc. in the market, we strive to respond promptly to customers by working together with Canon Inc., which is responsible for manufacturing, as well as with other manufacturers, etc. via an IT system. For problems which we judge may affect customers, we disclose the information promptly as an "Important Announcement" about a product on our website and in other media, and take other measures to let customers know and draw their attention to the problems.

* Following is available only in Japanese.