Initiatives for TCFD Recommendations
At the Canon Marketing Japan (hereafter, the "Canon MJ"), we endorsed the recommendations of the Task Force on Climate-Related Financial Disclosures (TCFD)*1 and are working on related initiatives.

*1: TCFD was established by the Financial Stability Board (FSB) at the request of the G20. In June 2017, the TCFD published its final report recommending that companies and other entities disclose the following items of their climate-related risks and opportunities.
TCFD website <
https://www.fsb-tcfd.org/
>
Policies related to climate change are discussed at the Sustainability Promotion Committee*2, which is chaired by the President, and determined at the Management Committee, and those policies are reflected in business strategies. The 2030 Medium-Term Environmental Targets, including climate change response, are managed by the Sustainability Promotion Committee and at its meetings held four times annually, the committee monitors the status of progress of the initiatives and provides directions.
*2: Sustainability Promotion Structure
The specific risks and opportunities regarding the impact of climate change on the Canon MJ Group's business for the 1.5°C scenario and the 4°C scenario based on information provided by IPCC and IEA, etc.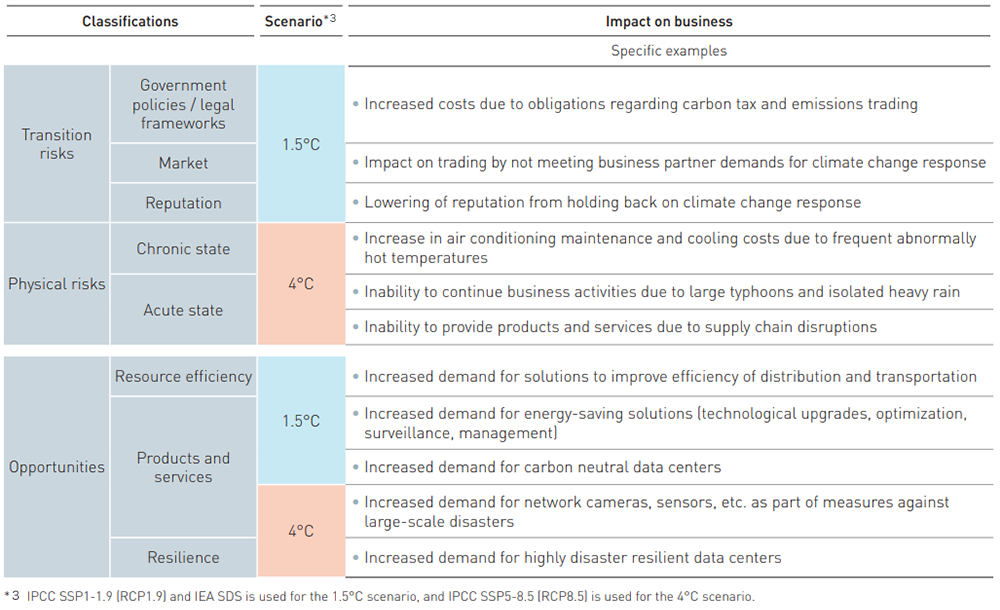 With regard to the physical risks such as large-scale wind and water damage, flood damage, etc. brought about by climate change, the Risk and Crisis Management Committee*4 performs crisis management activities such as examining and constructing crisis management systems.
Canon MJ Group has formulated the "Canon MJ Group Environmental Vision 2050*4" and the "2030 Medium-Term Environmental Targets*4." Under these, we have formulated the target of 38% reduction in in-house CO2 emissions (compared to 2021) toward "1. Realization of Carbon Neutrality" as a climate change target. In addition, the Canon MJ Group is aggregating and disclosing its GHG emissions*5.